The ACR122U from ACS has been an enormously popular contactless card / tag reader the world over, thanks to being the first general purpose USB CCID-compliant reader supporting both MIFARE / ISO 14443 cards and NFC / FeliCa tags, together with its cost economy.
Best replacement for ACR122U
Beware of the many bogus products, of questionable quality and reliability, being offered under the ACR122U product name that aren't genuine ACS readers – these should be avoided.
Thankfully, while ACS no longer produce the ACR122U they do manufacture replacement products that include additional features.
The CCID NFC reader products below are backward compatible with the ACR122U, and even have the same physical dimensions, although around 10g heavier in weight. The only visible difference is the colour – matt black rather than pearl white. Only a very few software solutions that used the original ACR122 reader's direct command tunneling feature may need to be updated.
ACR122U – closest replacement
We stock the ACR1252U which is identical to the old ACR122U, apart from the colour and the welcome ability to upgrade the devices' s firmware – for improved future-proofing. What's especially important is that this product can be offered at a similar market-beating price point to ACS's old ACR122U.
This version is exclusive to Smartcard Focus and comes with a plain front that can be silk-screened or pad-printed for custom branded applications. A standard label is also supplied with the familiar NFC logo, while custom labels are available on request.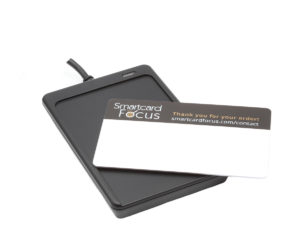 ACR122U – replacement with added SAM slot
We also stock the ACR1252U with SAM, which again looks just like a black version of the old ACR122U. In addition to the upgradable firmware feature, this version also includes a SAM (Secure Access Module) slot.
Secure Access Modules can be used to provide high-level security for the encryption of contactless communication between the reader and cards/tags, employing key diversification and mutual authentication techniques These SIM-sized smartcards can also be used to hold other secure identity or software license data within the reader and can be accessed using standard PC/SC commands.
A SAM can be installed in this version of the ACR1252U by removing the casing screws located under the removable rubber feet on the base of the reader.
This version is variously known as the ACR1252U-A1 or ACR1252U-M1.
ACR122U / ACR1252U SOFTWARE & ACCESSORIES
For new application developers there's an SDK available: ACR1252 SDK
To make use of existing cards with additional applications, the Read-a-Card software utility can automate RFID/NFC tag data transfer to cloud or desktop applications – identifying, reading, reformatting, logging and transferring data from contactless cards and tags: Read-a-Card software with ACR1252U
The same translucent plastic reader stand, designed for the ACR122U, can be used with ACR1252U models, since they share identical form-factors: ACR122/ACR1252 desktop stand
CARD & READER CUSTOMISATION SERVICES
With our long-established manufacturer relationships, specialist expertise and dedication to customer service, we can support a range of customisation needs including:
NFC/RFID card encoding for security and multi-application support.
Control of NFC/RFID encryption keys, with secure key storage in SAMs.
Reader customisation – including configuration, firmware development and bespoke reader housings, labels and packaging (depending on the chosen reader and volumes).
If you'd like to know more about customisation options – get in touch.